Housing Locations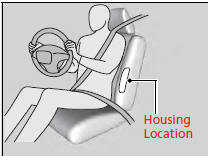 The side airbags are housed in the outside edge of the driver's and passenger's seat-backs. Both are marked SIDE AIRBAG.
Side Airbags
Do not attach accessories on or near the side airbags. They can interfere with the proper operation of the airbags, or hurt someone if an airbag inflates. If the impact is on the passenger side, the airbag deploys even if there is no passenger's in the passenger seat. Do not cover or replace the front seat-back covers without consulting a dealer. Improperly replacing or covering front seat-back covers can prevent your side airbags from properly deploying during a side impact.
See also:
Specifications
2.0 ℓ engine models ■Vehicle Specifications Engine Specifications Fuel Battery Washer Fluid ■Light Bulbs *1: Vehicle with discharge headlights *2: Vehicle with ha ...
Airbag Care
You do not need to, and should not, perform any maintenance on or replace any airbag system components yourself. However, you should have your vehicle inspected by a dealer in the following situatio ...
Locking/Unlocking the Doors Using a Key
Fully insert the key and turn it. Locking/Unlocking the Doors Using a Key When you lock the driver's door with a key, all the other doors lock at the same time. When unlocking, the driver's door ...