Housing Locations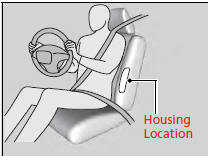 The side airbags are housed in the outside edge of the driver's and passenger's seat-backs. Both are marked SIDE AIRBAG.
Side Airbags
Do not attach accessories on or near the side airbags. They can interfere with the proper operation of the airbags, or hurt someone if an airbag inflates. If the impact is on the passenger side, the airbag deploys even if there is no passenger's in the passenger seat. Do not cover or replace the front seat-back covers without consulting a dealer. Improperly replacing or covering front seat-back covers can prevent your side airbags from properly deploying during a side impact.
See also:
Low Beam Headlights
High voltage can remain in the circuit for a long period of time after the light is switched off. Do not attempt to inspect or replace the high voltage discharge type bulbs yourself. Ask a deale ...
Adjusting the Steering Wheel
The steering wheel height and distance from your body can be adjusted so that you can comfortably grip the steering wheel in an appropriate driving posture. 1. Pull the steering wheel adjustment ...
Your Vehicle's Safety Features
The following checklist will help you take an active role in protecting yourself and your passengers. Your Vehicle's Safety Features Your vehicle is equipped with many features that work toget ...