Wipers and Washers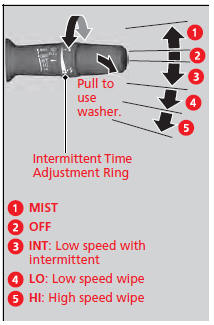 The windshield wipers and washers can be used when the power mode is in ON.
MIST
The wipers run at high speed until you release the lever.
Wiper switch (OFF, INT, LO, HI)
Change the wiper switch setting according to the amount of rain.
Adjusting the delay
Turn the adjustment ring to adjust the wiper delay.

Washer
Sprays while you pull the lever toward you. When you release the lever, the wipers make two or three more sweeps before stopping.
Wipers and Washers
NOTICE
Do not use the wipers when the windshield is dry. The windshield will get scratched, or the rubber blades will get damaged.
NOTICE
In cold weather, the blades may freeze to the windshield, becoming stuck. Operating the wipers in this condition may damage the wipers. Use the defroster to warm the windshield, then turn the wipers on. If the vehicle speeds up while the wipers are operating intermittently, the length of the wipe interval shortens. When the vehicle starts moving, the wipers make a single sweep. When the vehicle speeds up, the wiper operation's shortest delay setting

and the LO setting become the same. Turn the washers off if no washer fluid comes out. The pump may get damaged. The wiper motor is equipped with a breaker that may stop motor operation temporarily to prevent an overload. Wiper operation will return to normal within a few minutes, once the circuit has returned to normal.
See also:
Phone Setup
To pair a cell phone (when there is no phone paired to the system) 1. Press the PHONE button or the button. 2.Rotate to select Yes, then press . 3. Make sure your phone is in s ...
Auto Door Locking/Unlocking
Your vehicle locks all doors and unlocks the driver's door automatically when a certain condition is met. Auto Door Locking Drive lock mode All doors lock when the vehicle's speed reaches ab ...
If the Low Oil Pressure Indicator Comes On
Reasons for the indicator to come on Comes on when the engine oil pressure is low. What to do as soon as the indicator comes on 1.Immediately park the vehicle in a safe place. 2. If necessary, t ...