Synchronized Mode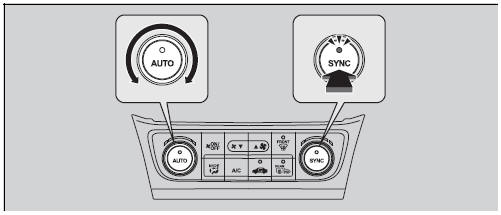 You can set the temperature synchronously for the driver side and the passenger side in synchronized mode.
1. Press the SYNC button.
- The system will switch to synchronized mode.
2. Adjust the temperature using driver's side temperature control dial.
Press the SYNC button to return to dual mode.
Synchronized Mode
When you press the

button, the system changes to synchronized mode. When the system is in dual mode, the driver side temperature and the passenger side temperature can be set separately.
See also:
Engine Coolant
Specified coolant: Honda Long Life Antifreeze/Coolant Type 2 This coolant is premixed with 50% antifreeze and 50% water. Do not add any straight antifreeze or water. We recommend you check the engi ...
Locking a Door Without Using a Key
Locking the front doors Push the lock tab forward or push the master door lock switch in the lock direction , and close the door. Locking the rear doors Push the lock tab forward and ...
Overheating
How to Handle Overheating Overheating symptoms are as follows: • The temperature gauge needle is at the mark or the engine suddenly loses power. • Steam or spray comes out of the engin ...