Playing Internet Radio
U.S. models
iPhone® use only
Activate Pandora®, and connect the iPhone® using your dock connector to the USB adapter cable, then press the AUX button.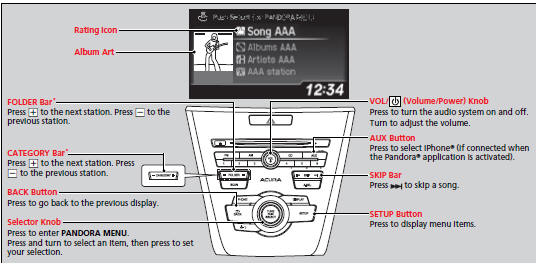 Pandora® Menu
You can operate some of the Pandora menu items from your vehicle's audio system. The available items are:
• Station List (QuickMix is also available)
• Like
• Dislike
• Resume/Pause
• SKIP
• Bookmark this song
• Bookmark this artist
Operating a menu item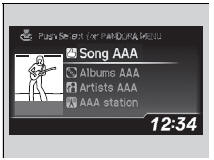 1.Press

to display the PANDORA MENU.
2.Rotate
to select a menu.
3. Press

to display the items on that menu.
Playing Internet Radio
Pandora® is a personalized Internet radio service that selects music based on an artist, song, or genre a user enters, and streams what is likely to be of interest. To use this service in your vehicle, the Pandora® app must first be installed on your iPhone®. Visit www.pandora.com. for more information. If you cannot operate Pandora® through the audio system, it may be streaming through Bluetooth® Audio. Make sure Pandora® mode on your audio system is selected.
Pandora® Menu
Available operating functions vary on software versions. Some functions may not be available on the vehicle's audio system. If there is a problem, you may see an error message on the audio/information screen.
There are restrictions on the number of songs you can skip or dislike in a given hour.
See also:
Fuse Locations
If any electrical devices are not working, set the power mode to VEHICLE OFF (LOCK) and check to see if any applicable fuse is blown. Fuse locations are shown on the fuse box cover. Locate the fu ...
Operation
When the sensors detect a moderate-tosevere side impact, the control unit signals the side airbag on the impact side to immediately inflate. When a side airbag deploys with little or no visible ...
Driving
This chapter discusses driving, refueling, and information on items such as accessories. ...