Using the Trunk Opener
Pulling the trunk release to the lower left of the driver's seat unlocks and opens the trunk.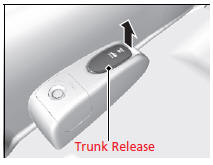 Locking the trunk opener
You can lock the trunk release with the builtin key.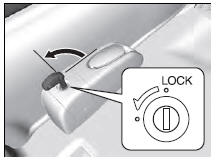 Using the Trunk Release Button
Push up the release button on the trunk lid after the doors are unlocked. Even if the trunk is locked, you can open the trunk if you carry the keyless access remote.
- A beeper will sound.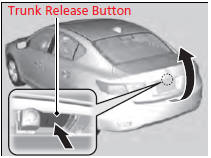 Using the Trunk Release Button
• Do not leave the keyless access remote in the vehicle when you get out. Carry it with you. • A person who is not carrying the keyless access remote can unlock the trunk if a person who is carrying it is within range. • Do not leave the keyless access remote inside the trunk and close the lid. The beeper sounds and the trunk cannot be closed.
See also:
Tire Service Life
The life of your tires is dependent on many factors, including driving habits, road conditions, vehicle loading, inflation pressure, maintenance history, speed, and environmental conditions (even ...
Protecting Larger Children
The following pages give instructions on how to check proper seat belt fit, what kind of booster seat to use if one is needed, and important precautions for a child who must sit in front. ...
Low Keyless Access Remote Signal Strength
The vehicle transmits radio waves to locate the keyless access remote when locking/ unlocking the doors, opening the trunk, or to start the engine. In the following cases, locking/unlocking the doors ...