Unlocking Using the Inner Handle of Front Doors
Pull the front door inner handle.
- The door unlocks and opens in one motion.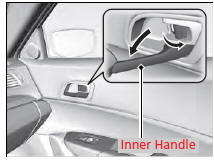 Unlocking Using the Inner Handle of Front Doors
The inner front door handles are designed to allow front seat occupants to open the door in one motion. However this feature requires that front seat occupants never pull a front door inner handle while the vehicle is in motion. Children should always ride in a rear seat where childproof door locks are provided.
See also:
Maintaining Genuine Leather*
Vacuum dirt and dust from the leather frequently. Pay close attention to the pleats and seams. Clean the leather with a soft cloth dampened with a 90% water and 10% neutral soap solution. Then buf ...
Side Airbag Cutoff System
To reduce the likelihood that a front passenger may be injured by an inflating side airbag, the passenger side airbag is automatically turned off when: • The height sensors detect a child or sho ...
Receiving a Text Message
HFL can display newly received text messages as well as 20 of the most recently received messages on a linked cell phone. Each received message can be read aloud and replied to using a fixed com ...