Locking a Door Without Using a Key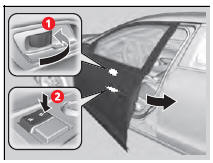 Locking the front doors
Push the lock tab forward

or push the master door lock switch in the lock direction

, and close the door.
Locking the rear doors
Push the lock tab forward and close the door.
Lockout prevention system
The doors cannot be locked when the keyless access remote is inside the vehicle, and any door is open.
Locking a Door Without Using a Key
When you lock the driver's door, all the other doors lock at the same time. Make sure you have the key in your hand before locking the door to prevent it from being locked in the vehicle.
See also:
Tire and Wheel Replacement
Replace your tires with radials of the same size, load range, speed rating, and maximum cold tire pressure rating (as shown on the tire's sidewall). Using tires of a different size or construc ...
High Beam Headlight
Driver side 1.Remove the engine compartment cover. All models 2. Push the tab to remove the coupler. 3. Rotate the old bulb to the left to remove. 4. Insert a new bulb into the headlight assem ...
ABS (Anti-lock Brake System)
ABS Helps prevent the wheels from locking up, and helps you retain steering control by pumping the brakes rapidly, much faster than you. The electronic brake distribution (EBD) system, which is p ...