Operation
When the sensors detect a moderate-tosevere side impact, the control unit signals the side airbag on the impact side to immediately inflate.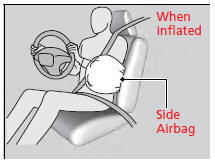 When a side airbag deploys with little or no visible damage
Because the airbag system senses sudden acceleration, a strong impact to the side of the vehicle's framework can cause a side airbag to deploy. In such cases, there may be little or no damage, but the side impact sensors detected a severe enough impact to deploy the airbag.
When a side airbag may not deploy, even though visible damage appears severe
It is possible for a side airbag to not deploy during an impact that results in apparently severe damage. This can occur when the point of impact was towards the far front or rear of the vehicle, or when the vehicle's crushable body parts absorbed most of the crash energy. In either case, the side airbag would not have been needed nor provided protection even if it had deployed.
See also:
Multi-Information Display
The multi-information display shows the odometer, trip meter, outside temperature indicator, and other gauges. It also displays important messages such as warnings and other helpful information. S ...
Precautions While Driving
In Rain Avoid driving in deep water and on flooded roads. This can damage the engine, driveline, or cause electrical component failure. Other Precautions If there is a strong impact with something ...
If the Malfunction Indicator Lamp Comes On or Blinks
Reasons for indicator lamp to come on or blink • Comes on when there is a problem with the engine emissions control system, or the fuel fill cap is missing, or loose. • Blinks when engine mis ...