Advanced Airbags
Your front airbags have advanced features to help reduce the likelihood of airbag related injuries to smaller occupants.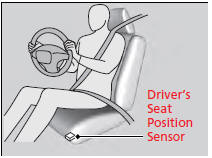 The driver's advanced front airbag system includes a seat position sensor. If the seat is too far forward, the airbag inflates with less force, regardless of the severity of the impact.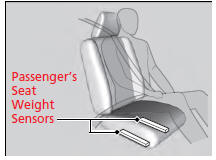 The passenger's advanced front airbag system has weight sensors. Although we recommend against carrying an infant or small child in front, if the sensors detect the weight of a child (up to about 65 lbs or 29 kg), the system will automatically turn off the passenger's front airbag.
Advanced Airbags
If there is a problem with the driver's seat position sensor, the SRS indicator will come on and the airbag will inflate with full (normal) force, regardless of the driver's seating position. For both advanced front airbags to work properly: • Do not spill any liquid on or under the seats. • Do not put any object under the passenger's seat. • Make sure any objects are positioned properly on the floor. Improperly positioned objects can interfere with the advanced airbag sensors. • All occupants should sit upright and wear their seat belts properly. • Do not place any cover over the passenger side dashboard. Make sure the floor mat behind the front passenger's seat is hooked to the floor mat anchor. An improperly placed mat can interfere with the advanced airbag sensors.
See also:
Rear Seat
Folding Down the Rear Seat 1. Remove the center shoulder belt from the guide. 2. Pull the release lever in the trunk to release the lock. 3. Fold the seat-back down. If the rear head restr ...
Oil Check
We recommend that you check the engine oil level every time you refuel. Park the vehicle on level ground. Wait approximately three minutes after turning the engine off before you check the oil. ...
Automatic Transmission
Creeping The following conditions cause the engine to run at high revolutions, and increase creeping: • Immediately after the engine starts. • When the climate control system is in use. Keep ...