Tire Rotation
Rotating tires according to the maintenance messages on the multi-information display helps to distribute wear more evenly and increase tire life.
Tires without rotation marks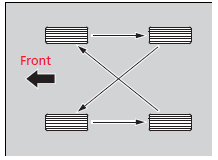 Rotate the tires as shown here.
Tires with rotation marks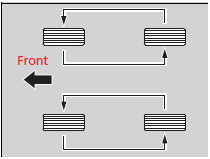 Rotate the tires as shown here.
Tire Rotation
Tires with directional tread patterns should only be rotated front to back (not from one side to the other). Directional tires should be mounted with the rotation indication mark facing forward, as shown below.
See also:
High Beam Headlight
Driver side 1.Remove the engine compartment cover. All models 2. Push the tab to remove the coupler. 3. Rotate the old bulb to the left to remove. 4. Insert a new bulb into the headlight assem ...
Using the Lock Tab
Locking a door Push the lock tab forward. Unlocking a door Pull the lock tab rearward. Using the Lock Tab When you lock the door using the lock tab on the driver's door, all the other doors lo ...
Vehicle Identification Number (VIN)
Your vehicle has a 17-digit vehicle identification number (VIN) used to register your vehicle for warranty purposes, and for licensing and insuring your vehicle. See the image below for the VIN ...