Oil Check
We recommend that you check the engine oil level every time you refuel. Park the vehicle on level ground. Wait approximately three minutes after turning the engine off before you check the oil.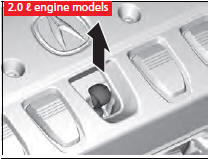 1. Remove the dipstick (orange handle).
2.Wipe the dipstick with a clean cloth or paper towel.
3. Insert the dipstick back all the way into its hole.
Oil Check
If the oil level is near or below the lower mark, slowly add oil being careful not to overfill.
4. Remove the dipstick again, and check the level. It should be between the upper and lower marks. Add oil if necessary.
See also:
Interior Checks
• Store or secure all items on board properly. - Carrying too much cargo, or improperly storing it, can affect your vehicle's handling, stability, stopping distance, and tires, and m ...
Housing Locations
The side airbags are housed in the outside edge of the driver's and passenger's seat-backs. Both are marked SIDE AIRBAG. Side Airbags Do not attach accessories on or near the side airbags. The ...
Fuel Economy
Improving Fuel Economy Fuel economy depends on several conditions, including driving conditions, your driving habits, the condition of your vehicle, and loading. Depending on these and other co ...