Locking/Unlocking the Doors Using a Key
Fully insert the key and turn it.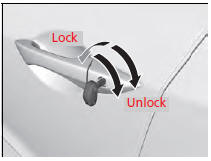 Locking/Unlocking the Doors Using a Key
When you lock the driver's door with a key, all the other doors lock at the same time. When unlocking, the driver's door unlocks first. Turn the key a second time within a few seconds to unlock the remaining doors.
You can customize the door unlock mode setting.
See also:
About Your Seat Belts
Seat belts are the single most effective safety device because they keep you connected to the vehicle so that you can take advantage of many built-in safety features. They also help keep you from be ...
Protecting Child Passengers
Each year, many children are injured or killed in vehicle crashes because they are either unrestrained or not properly restrained. In fact, vehicle accidents are the number one cause of death of ...
Installing a Child Seat with a Lap/Shoulder Seat Belt
1. Place the child seat on the vehicle seat. 2. Route the seat belt through the child seat according to the seat maker's instructions, and insert the latch plate into the buckle. - Insert th ...