Engine Compartment Cover
The component parts in the engine compartment are protected by a cover. You may need to remove the cover when you perform certain maintenance work. To remove the cover: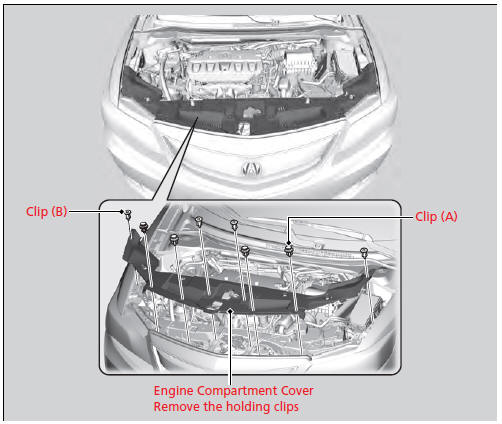 Engine Compartment Cover
Holding clip (A-type)
Insert a flat-tip screwdriver, lift and remove the center pin to remove the clip.
Insert the clip with the center pin raised, and push until it is flat.
Engine Compartment Cover
Holding clip (B-type)
Press down the center pin until it clicks to unlock it.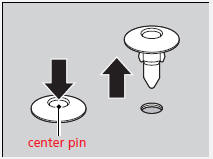 Push the center pin back to lock the clip. Then, insert the clip into the hole and press on the center pin until it is flat.
See also:
To Set Up a Text Message Notice Option
1. Press the PHONE button or the button. 2. Rotate to select Phone Setup, then press . 3. Rotate to select Message Notice, then press . 4. Rotate to select a mode you want, ...
Installing a LATCH-Compatible Child Seat
A LATCH-compatible child seat can be installed in either of the two outer rear seats. A child seat is attached to the lower anchors with either the rigid or flexible type of connectors. 1. Loca ...
Fuel Information
Fuel recommendation Unleaded premium gasoline, pump octane number 91 or higher Use of lower octane gasoline can cause occasional metallic knocking noise in the engine and will result in decreased ...