What to Do If

The power mode does not change from VEHICLE OFF (LOCK) to ACCESSORY. Why?

● The steering wheel may be locked. ● Move the steering wheel left and right after pressing the ENGINE START/STOP button.


The power mode does not change from ON to VEHICLE OFF (LOCK). Why?

The shift lever should be moved to

.

Why does the brake pedal pulsate slightly when applying the brakes?

This can occur when the ABS activates, and does not indicate a problem. Apply firm, steady pressure on the brake pedal. Never pump the brake pedal.

The rear door cannot be opened from inside the vehicle. Why?

Check if the childproof lock is in the LOCK position. If so, open the rear door with the outside door handle. To cancel this function, push the lever to the UNLOCK position.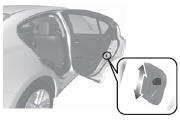 Why do the doors lock after I unlocked the doors using a remote transmitter?

If you do not open the doors within 30 seconds, the doors are relocked automatically for security.

Why does the beeper sound when I open the driver's door?

The beeper sounds when: ● The power mode is in ACCESSORY. ● The exterior lights are left on.

Why does the beeper sound when I start driving?

The beeper sounds when: ● Driver and/or front passenger are not wearing their seat belts. ● The parking brake lever is not fully released.

Why do I hear a screeching sound when I apply the brake pedal?

The brake pads may need to be replaced. Have your vehicle inspected by a dealer.

Is it possible to use unleaded gasoline with a Pump Octane Number (PON) of 87 or higher on this vehicle?

Unleaded gasoline with a Pump Octane Number (PON) of 91 or higher is recommended. Use of lower octane gasoline can cause occasional metallic knocking noise in the engine and will result in decreased engine performance. Use of gasoline with a pump octane less than 87 can lead to engine damage.
California Proposition 65 Warning
WARNING: This product contains or emits chemicals known to the state of California to cause cancer and birth defects or other reproductive harm.
Event Data Recorders
This vehicle is equipped with an event data recorder (EDR). The main purpose of an EDR is to record, in certain crash or near crash-like situations, such as an air bag deployment or hitting a road obstacle, data that will assist in understanding how a vehicle's systems performed. The EDR is designed to record data related to vehicle dynamics and safety systems for a short period of time, typically 30 seconds or less. The EDR in this vehicle is designed to record such data as: • How various systems in your vehicle were operating; • Whether or not the driver and passenger safety belts were buckled/fastened; • How far (if at all) the driver was depressing the accelerator and/or brake pedal; and, • How fast the vehicle was traveling. These data can help provide a better understanding of the circumstances in which crashes and injuries occur. NOTE: EDR data are recorded by your vehicle only if a non-trivial crash situation occurs; no data are recorded by the EDR under normal driving conditions and no personal data (e.g., name, gender, age, and crash location) are recorded. However, other parties, such as law enforcement, could combine the EDR data with the type of personally identifying data routinely acquired during a crash investigation.
To read data recorded by an EDR, special equipment is required, and access to the vehicle or the EDR is needed. In addition to the vehicle manufacturer, other parties, such as law enforcement, that have the special equipment, can read the information if they have access to the vehicle or the EDR. The data belongs to the vehicle owner and may not be accessed by anyone else except as legally required or with the permission of the vehicle owner.
Service Diagnostic Recorders
This vehicle is equipped with service-related devices that record information about powertrain performance. The data can be used to verify emissions law requirements and/or help technicians diagnose and solve service problems. It may also be combined with data from other sources for research purposes, but it remains confidential.
California Perchlorate Contamination Prevention Act
The airbags, seat belt tensioners, and CR type batteries in this vehicle may contain perchlorate materials - special handling may apply. See www.dtsc.ca.gov/hazardouswaste/perchlorate/
As you read this manual, you will find information that is preceded by a

symbol. This information is intended to help you avoid damage to your vehicle, other property, or the environment.
A Few Words About Safety
Your safety, and the safety of others, is very important. And operating this vehicle safely is an important responsibility. To help you make informed decisions about safety, we have provided operating procedures and other information on labels and in this manual. This information alerts you to potential hazards that could hurt you or others. Of course, it is not practical or possible to warn you about all the hazards associated with operating or maintaining your vehicle. You must use your own good judgement.
You will find this important safety information in a variety of forms, including: ● Safety Labels - on the vehicle. ● Safety Messages - preceded by a safety alert symbol

and one of three signal words: DANGER, WARNING, or CAUTION. These signal words mean:

You WILL be KILLED or SERIOUSLY HURT if you don't follow instructions.

You CAN be KILLED or SERIOUSLY HURT if you don't follow instructions.

You CAN be HURT if you don't follow instructions.
● Safety Headings - such as Important Safety Precautions. ● Safety Section - such as Safe Driving. ● Instructions - how to use this vehicle correctly and safely.
This entire book is filled with important safety information - please read it carefully.
See also:
Oil Check
We recommend that you check the engine oil level every time you refuel. Park the vehicle on level ground. Wait approximately three minutes after turning the engine off before you check the oil. ...
Power Door Mirrors
You can adjust the door mirrors when the power mode is in ON. Mirror position adjustment L/R selector switch: Select the left or right mirror. After adjusting the mirror, return the switch to t ...
Opening and Closing the Moonroof
Opening/Closing the Moonroof You can only operate the moonroof when the power mode is in ON. Use the switch in the front of the ceiling to open and close the moonroof. Automatic operation To ope ...