Playing the AM/FM Radio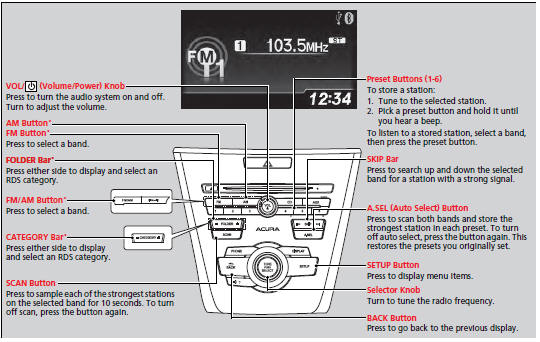 Radio Data System (RDS)
Provides text data information related to your selected RDS capable FM station.
RDS Information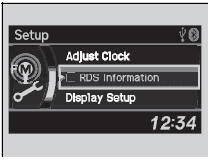 1.Press the SETUP button and rotate

to select RDS Information.
2.Each time you press

, the RDS Information switches between on and off.
To find an RDS station from your selected program category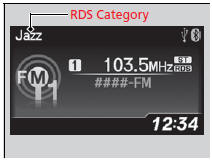 1.Press the FOLDER bar or the CATEGORY bar to display and select an RDS category.
2.Use SKIP or SCAN to select an RDS station.
Playing the AM/FM Radio
The ST indicator appears on the display indicating stereo FM broadcasts. Stereo reproduction in AM is not available.
Switching the Audio Mode
Press the MODE button on the steering wheel.
You can store six AM stations and twelve FM stations into the preset button memory. FM1 and FM2 let you store six stations each. Auto Select function scans and stores up to six AM stations and twelve FM stations with a strong signal into the preset button memory. If you do not like the stations auto select has stored, you can manually store your preferred frequencies.
See also:
Parking Your Vehicle
When Stopped 1. Depress the brake pedal firmly. 2. Firmly apply the parking brake. Automatic transmission models 3. Move the shift lever from to . Manual transmission models 3. Move ...
Opening and Closing the Windows
Opening/Closing the Power Windows The power windows can be opened and closed when the power mode is in ON, using the switches on the doors. The driver's side switches can be used to open and clos ...
Installing a Child Seat with a Lap/Shoulder Seat Belt
1. Place the child seat on the vehicle seat. 2. Route the seat belt through the child seat according to the seat maker's instructions, and insert the latch plate into the buckle. - Insert th ...