Adjusting the Sound
Press the SETUP button, and rotate

to select Sound Settings, then press

. Rotate
to scroll through the following choices: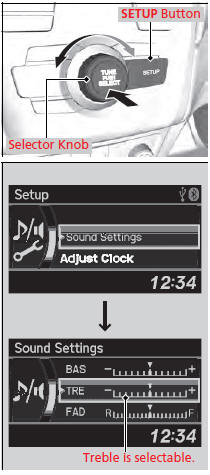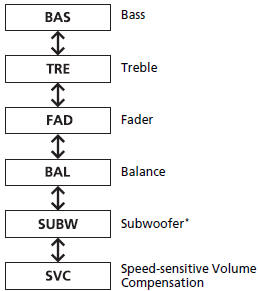 Adjusting the Sound
The SVC has four modes: Off, Low, Mid, and High. SVC adjusts the volume level based on the vehicle speed. As you go faster, audio volume increases. As you slow down, audio volume decreases.
See also:
Immobilizer System
The immobilizer system prevents a key that has not been pre-registered from starting the engine. Each key contains electronic transmitters that use electronic signals to verify the key. Pay atten ...
Exterior Checks
• Make sure there are no obstructions on the windows, door mirrors, exterior lights, or other parts of the vehicle. - Remove any frost, snow, or ice. - Remove any snow on ...
Engine Compartment Cover
The component parts in the engine compartment are protected by a cover. You may need to remove the cover when you perform certain maintenance work. To remove the cover: Engine Compartment Cover ...