Driving
Manual Transmission
Automatic Transmission
● Shift to

and depress the brake pedal when starting the engine.
● Shifting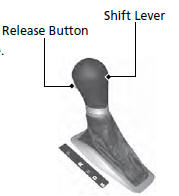 Park
Turn off or start the engine. Transmission is locked.

Reverse

Neutral
Transmission is not locked.

Drive
Normal driving. D-paddle shift mode can be used.

S Position
Sequential shift mode can be used.


Depress the brake pedal and press the release button to move out of

.

Press the release button to move the shift lever.
Move the shift lever without pressing the release button.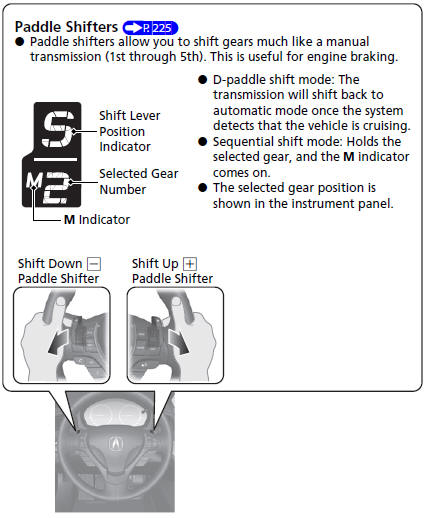 VSA® OFF Button
(P 233) ● The vehicle stability assist (VSA®) system helps stabilize the vehicle during cornering, and helps maintain traction while accelerating on loose or slippery road surfaces. ● VSA® comes on automatically every time you start the engine. ● To turn VSA® on or off, press and hold the button until you hear a beep.
Cruise Control
● Cruise control allows you to maintain a set speed without keeping your foot on the accelerator pedal. ● To use cruise control, press the CRUISE button, then press DECEL/SET once you have achieved the desired speed (above 25 mph or 40 km/h).
Tire Pressure Monitoring System (TPMS)
U.S. models only
TPMS monitors tire pressure. ● TPMS is turned on automatically every time you start the engine.
Refueling
Fuel recommendation: Unleaded premium gasoline with a pump octane number 91 or higher recommended
Fuel tank capacity: 13.2 US gal (50 L)
1. Push the fuel fill door release handle.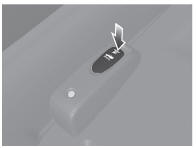 2. Turn the fuel fill cap slowly to remove the cap.
3. Place the cap in the holder on the fuel fill door.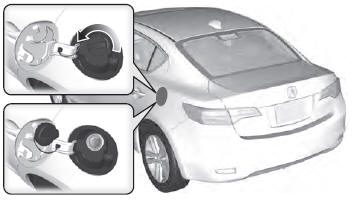 4. After refueling, screw the cap back on until it clicks at least once.
See also:
Overheating
How to Handle Overheating Overheating symptoms are as follows: • The temperature gauge needle is at the mark or the engine suddenly loses power. • Steam or spray comes out of the engin ...
Security System Alarm
The security system alarm activates when the trunk, hood, or doors are opened without the key, or remote transmitter, or keyless access system. When the security system alarm activates The horn sou ...
Using the Remote Transmitter
Locking the doors Press the LOCK button. Once: - Some exterior lights flash, all the doors lock, and the security system sets. Twice (within five seconds after the first push): - ...