Brightness Control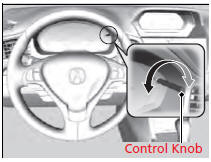 When the power mode is in ON, you can use the brightness control knob to adjust instrument panel brightness. Brighten: Turn the knob to the right. Dim: Turn the knob to the left. You will hear a beep when the brightness reaches minimum or maximum. The multiinformation display will return to its original state several seconds after you adjust the brightness.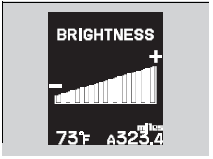 Brightness level indicator
The brightness level is shown on the multiinformation display while you are adjusting it.
Wipers and Washers
If the wiper stops operating due to any obstacle such as the build-up of snow, park the vehicle in a safe place. Rotate the wiper switch to OFF, and set the power mode to ACCESSORY or VEHICLE OFF (LOCK), then remove the obstacle.
Brightness Control
Instrument panel brightness varies, depending on whether the exterior lights are on or off. The instrument panel dims to reduce glare when they are on. When it is bright outside and the headlight integration with the wiper is activated, the instrument panel brightness does not change. Pressing the SEL/RESET button or either

(information) button switches the display. If you turn the knob to the right until the brightness display is up to max, the beeper sounds. This cancels the reduced instrument panel brightness when the parking lights are on. The brightness can be set differently for when the exterior lights are on, and when they are off.
See also:
Adding Engine Oil
1.Unscrew and remove the engine oil fill cap. 2. Add oil slowly. 3. Reinstall the engine oil fill cap, and tighten it securely. 4.Wait for three minutes and recheck the engine oil dipstick. ...
Armrest
Using the Rear Seat Armrest Pull down the armrest in the center seat-back. ...
For Safe Driving
The following pages explain your vehicle's safety features and how to use them properly. The safety precautions below are ones that we consider to be among the most important. ...