Checking Seat Belt Fit
When a child is too big for a child seat, secure the child in a rear seat using the lap/ shoulder seat belt. Have the child sit upright and all the way back, then answer the following questions.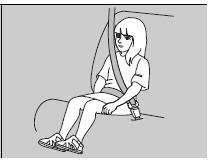 Checklist
• Do the child's knees bend comfortably over the edge of the seat? • Does the shoulder belt cross between the child's neck and arm? • Is the lap part of the seat belt as low as possible, touching the child's thighs? • Will the child be able to stay seated like this for the whole trip?
If you answer yes to all these questions, the child is ready to wear the lap/shoulder seat belt correctly. If you answer no to any question, the child needs to ride on a booster seat until the seat belt fits properly without a booster seat.
Safety of Larger Children
WARNING
Allowing a child age 12 or under to sit in front can result in injury or death if the passenger's front airbag inflates. If a larger child must ride in front, move the vehicle seat as far to the rear as possible, have the child sit up properly and wear the seat belt properly, using a booster seat if needed.
See also:
Tire Rotation
Rotating tires according to the maintenance messages on the multi-information display helps to distribute wear more evenly and increase tire life. Tires without rotation marks Rotate the tires as ...
Operation
The side curtain airbag is designed to deploy in a moderate-to-severe side impact. When side curtain airbags deploy in a frontal collision One or both side curtain airbags may inflate in a modera ...
Audio/Information Screen
Displays audio status and wallpaper, and allows you to go to various setup options. Switching the Display Press DISPLAY button. Rotate and select the mode from the three display modes. Press ...