Installing a LATCH-Compatible Child Seat
A LATCH-compatible child seat can be installed in either of the two outer rear seats. A child seat is attached to the lower anchors with either the rigid or flexible type of connectors.
1. Locate the lower anchors under the marks.
2. Place the child seat on the vehicle seat then attach the child seat to the lower anchors according to the instructions that came with the child seat.
- When installing the child seat, make sure that the lower anchors are not obstructed by the seat belt or any other object.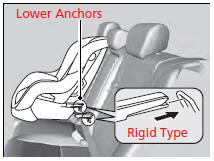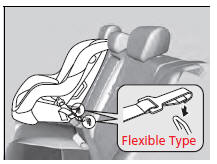 3. Open the tether anchor cover behind the head restraint.
4. Raise the head restraint to its highest position, then route the tether strap between the head restraint legs, and secure the tether strap hook onto the anchor.
5. Tighten the tether strap as instructed by the child seat maker.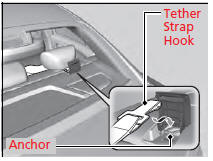 6. Make sure the child seat is firmly secured by rocking it forward and back and side to side; little movement should be felt.
7. Make sure any unused seat belt that a child can reach is buckled, the lockable retractor is activated, and the belt is fully retracted and locked.
Installing a LATCH-Compatible Child Seat
For your child's safety, when using a child seat installed using the LATCH system, make sure that the seat is properly secured to the vehicle. A child seat that is not properly secured will not adequately protect a child in a crash and may cause injury to the child or other vehicle occupants.
See also:
Automatic Climate Control Sensors
The automatic climate control system is equipped with a sunlight sensor, an interior temperature and humidity sensor. Do not cover or spill any liquid on them. ...
What to Do If
The power mode does not change from VEHICLE OFF (LOCK) to ACCESSORY. Why? ● The steering wheel may be locked. ● Move the steering wheel left and right after pressing the EN ...
Audio System Basic Operation
To use the audio system function, the power mode must be in ACCESSORY or ON. Use the selector knob or SETUP button to access some audio functions. Press to switch between the normal and exten ...