Side Airbag Cutoff System
To reduce the likelihood that a front passenger may be injured by an inflating side airbag, the passenger side airbag is automatically turned off when: • The height sensors detect a child or short-statured adult is seated in the front passenger seat. • The position sensor detects that the front passenger is leaning into the deployment path of the side airbag. When the side airbag cutoff system is activated, the side airbag off indicator comes on.
Side Airbag Cutoff System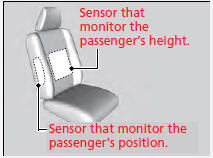 The sensors that monitor the front passenger's height and body position may not work if:
• The seat-back is wet
• The passenger is touching a metal or other electrical conductive object
• A seat cushion is on the seat
• The passenger is wearing excessively thick clothing
See also:
Changing the Engine Oil and Oil Filter
You must change the engine oil and oil filter regularly in order to maintain the engine's lubrication. The engine may be damaged if they are not changed regularly. Change the oil and filter in a ...
Speed Dial
Up to 15 speed dial numbers can be stored per phone. To store a speed dial number: 1. Press the PHONE button or the button. 2. Rotate to select Phone Setup, then press . - Re ...
How the Front Airbags Work
While your seat belt restrains your torso, the front airbag provides supplemental protection for your head and chest. The front airbags deflate immediately so that they won't interfere with the dr ...