Side Airbag Cutoff System
To reduce the likelihood that a front passenger may be injured by an inflating side airbag, the passenger side airbag is automatically turned off when: • The height sensors detect a child or short-statured adult is seated in the front passenger seat. • The position sensor detects that the front passenger is leaning into the deployment path of the side airbag. When the side airbag cutoff system is activated, the side airbag off indicator comes on.
Side Airbag Cutoff System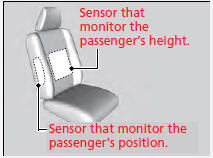 The sensors that monitor the front passenger's height and body position may not work if:
• The seat-back is wet
• The passenger is touching a metal or other electrical conductive object
• A seat cushion is on the seat
• The passenger is wearing excessively thick clothing
See also:
Driving
This chapter discusses driving, refueling, and information on items such as accessories. ...
Caller's ID Information
You can select a caller's information to be displayed when you have an incoming call. 1. Press the PHONE button or the button. 2. Rotate to select Phone Setup, then press . - Repe ...
Starting the Engine
1. Make sure the parking brake is applied. Automatic transmission models 2. Check that the shift lever is in , then depress the brake pedal. - Although it is possible to start the vehic ...