If the Keyless Access Remote Battery is Weak
If the beeper sounds, the TO START, HOLD REMOTE NEAR START BUTTON message appears on the multi-information display, the indicator on the ENGINE START/STOP button flashes, and the engine won't start. Start the engine as follows.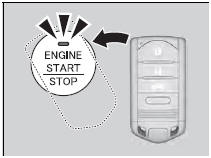 1. Touch the center of the ENGINE START/ STOP button with the A logo on the keyless access remote while the indicator on the ENGINE START/STOP button is flashing. The buttons on the keyless access remote should be facing you.
- The indicator flashes for about 30 seconds.
2. Depress the brake pedal (automatic transmission) or clutch pedal (manual transmission) and press the ENGINE START/STOP button within 10 seconds after the beeper sounds and the indicator stays on.
- If you don't depress the pedal, the mode will change to ACCESSORY.
See also:
Pandora®
U.S. models If an error occurs while playing Pandora®, you may see the following error messages. If you cannot clear the error message, contact a dealer. ...
If the Malfunction Indicator Lamp Comes On or Blinks
Reasons for indicator lamp to come on or blink • Comes on when there is a problem with the engine emissions control system, or the fuel fill cap is missing, or loose. • Blinks when engine mis ...
TPMS (Tire Pressure Monitoring System)
U.S. models only Monitors the tire pressure while you are driving. If your vehicle's tire pressure becomes significantly low, the low tire pressure/TPMS indicator comes on and a message appears ...