Automatic Seat Belt Tensioners
The front seats are equipped with automatic seat belt tensioners to enhance safety. The tensioners automatically tighten the front seat belts during a moderate-tosevere frontal collision, sometimes even if the collision is not severe enough to inflate the front airbags.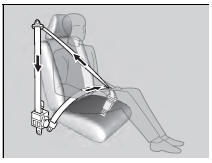 Automatic Seat Belt Tensioners
The seat belt tensioners can only operate once. If a tensioner is activated, the SRS indicator will come on. Have a dealer replace the tensioner and thoroughly inspect the seat belt system as it may not offer protection in a subsequent crash. During a moderate-to-severe side impact, the tensioner on that side of the vehicle also activates.
See also:
Floor Mats
The front floor mats hook over the floor anchors, which keep the mats from sliding forward. To remove the mats for cleaning, turn the anchor knobs to the unlock position. When reinstalling the mat ...
Fuse Locations
If any electrical devices are not working, set the power mode to VEHICLE OFF (LOCK) and check to see if any applicable fuse is blown. Fuse locations are shown on the fuse box cover. Locate the fu ...
VSA® (Vehicle Stability Assist), aka ESC(Electronic Stability Control), System
VSA® helps to stabilize the vehicle during cornering if the vehicle turns more or less than what was intended. It also assists in maintaining traction on slippery surfaces. It does so by regula ...