Recommended Engine Oil
• Genuine Acura Motor Oil
• Premium-grade 0W-20 detergent oil with an API Certification Seal on the container.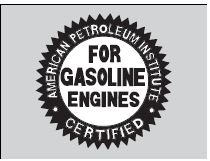 Oil is a major contributor to your engine's performance and longevity. If you drive the vehicle with insufficient or deteriorated oil, the engine may fail or be damaged. This seal indicates the oil is energy conserving and that it meets the American Petroleum Institute's latest requirements. Use a Genuine Acura Motor Oil or another commercial engine oil of suitable viscosity for the ambient temperature as shown.
Synthetic oil
You may also use synthetic motor oil if it is labeled with the API Certification Seal and is the specified viscosity grade.
Recommended Engine Oil
Engine Oil Additives
Your vehicle does not require oil additives. In fact, they may adversely affect the engine performance and durability.
See also:
Protecting Infants
An infant must be properly restrained in a rear-facing, reclining child seat until the infant reaches the seat maker's weight or height limit for the seat, and the infant is at least one year ol ...
Checking Seat Belt Fit
When a child is too big for a child seat, secure the child in a rear seat using the lap/ shoulder seat belt. Have the child sit upright and all the way back, then answer the following questions. ...
How to Refuel
1. Stop your vehicle with the service station pump on the left side of the vehicle in the rear. 2. Turn off the engine. 3. Push on the fuel fill door release handle at the foot of the driver' ...