Power Door Mirrors
You can adjust the door mirrors when the power mode is in ON.
Mirror position adjustment
L/R selector switch: Select the left or right mirror. After adjusting the mirror, return the switch to the center position.
Mirror position adjustment switch: Press the switch left, right, up, or down to move the mirror.
Expanded View Driver's Mirror
The driver side door mirror has outer and inner segments. The outer segment is slightly curved to provide a wider angle view than a standard flat mirror. This wider view may help you check areas that are not visible using a standard door mirror.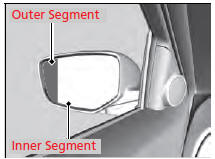 Expanded View Driver's Mirror
Objects visible in the outer segment of the driver side door mirror appear smaller than objects in the rest of the mirror. But in fact, they are closer than they appear. Do not rely on your mirrors. Always look to the side and behind your vehicle before changing lanes.
See also:
Setting the Clock
Clock Models without navigation system You can adjust the time in the clock display, with the power mode in ON. 1. Press the SETUP button. 2. Rotate to select Adjust Clock on the screen. 3. ...
Options During a Call
The following options are available during a call. Mute: Mute your voice. Transfer Call: Transfer a call from HFL to your phone. Touch Tones: Send numbers during a call. This is useful when you cal ...
Speed Dial
Up to 15 speed dial numbers can be stored per phone. To store a speed dial number: 1. Press the PHONE button or the button. 2. Rotate to select Phone Setup, then press . - Re ...