Power Door Mirrors
You can adjust the door mirrors when the power mode is in ON.
Mirror position adjustment
L/R selector switch: Select the left or right mirror. After adjusting the mirror, return the switch to the center position.
Mirror position adjustment switch: Press the switch left, right, up, or down to move the mirror.
Expanded View Driver's Mirror
The driver side door mirror has outer and inner segments. The outer segment is slightly curved to provide a wider angle view than a standard flat mirror. This wider view may help you check areas that are not visible using a standard door mirror.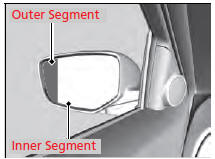 Expanded View Driver's Mirror
Objects visible in the outer segment of the driver side door mirror appear smaller than objects in the rest of the mirror. But in fact, they are closer than they appear. Do not rely on your mirrors. Always look to the side and behind your vehicle before changing lanes.
See also:
Safe Driving
You can find many safety recommendations throughout this chapter, and throughout this manual. ...
Maintenance Items Under the Hood
2.0 ℓ engine models 2.4 ℓ engine models ...
Starting the Engine
1. Make sure the parking brake is applied. Automatic transmission models 2. Check that the shift lever is in , then depress the brake pedal. - Although it is possible to start the vehic ...