Remote Transmitter Care
Replacing the Button Battery
If the indicator does not come on when the button is pressed, replace the battery.
Battery type: CR2032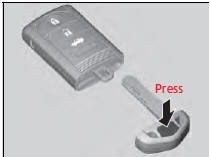 1. Remove the built-in key.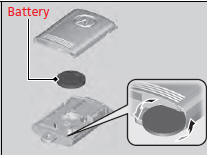 2. Remove the upper half by carefully prying on the edge with a coin.
- Wrap a coin with a cloth to prevent scratching the transmitter.
3.Make sure to replace the battery with the correct polarity.
Replacing the Button Battery
NOTICE
An improperly disposed of battery can damage the environment. Always confirm local regulations for battery disposal. Replacement batteries are commercially available or at a dealer.
See also:
Wear Indicators
The groove where the wear indicator is located is 1/16 inch (1.6 mm) shallower than elsewhere on the tire. If the tread has worn so that the indicator is exposed, replace the tire. Worn out tire ...
Maintaining Genuine Leather*
Vacuum dirt and dust from the leather frequently. Pay close attention to the pleats and seams. Clean the leather with a soft cloth dampened with a 90% water and 10% neutral soap solution. Then buf ...
Safe Driving
You can find many safety recommendations throughout this chapter, and throughout this manual. ...