Audio/Information Screen
Displays audio status and wallpaper, and allows you to go to various setup options.
Switching the Display
Press DISPLAY button. Rotate

and select the mode from the three display modes.
Press

.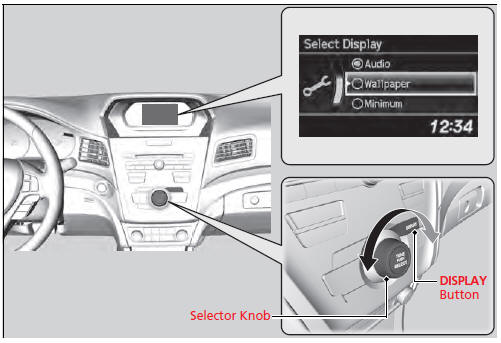 Audio Display
Shows the current audio information.
Wallpaper
Shows a clock screen or an image you import.
Minimum Display
Minimizes the display by only showing the clock and audio status on the display.
Setting Options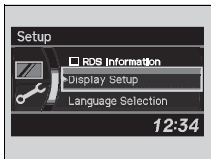 1.Press the SETUP button.
2. Rotate

and select the setup option you want to change. Press

.
Language Selection
1.Rotate

to select Language Selection, then press

.
2. Rotate

to select the language, then press

.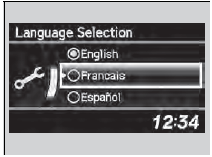 See also:
Your Vehicle's Safety Features
The following checklist will help you take an active role in protecting yourself and your passengers. Your Vehicle's Safety Features Your vehicle is equipped with many features that work toget ...
Adjusting the Steering Wheel
The steering wheel height and distance from your body can be adjusted so that you can comfortably grip the steering wheel in an appropriate driving posture. 1. Pull the steering wheel adjustment ...
Transmission Fluid
Automatic Transmission Fluid Specified fluid: Acura ATF DW-1 (automatic transmission fluid) Check the fluid level when the engine is at normal operating temperature. 1. Park on level ground, and ...